What matters most to you in your home's new roof? Is it appearance? Initial cost? Long-term cost? Lifespan? You might find it surprising how different these factors can be among the different choices of roofing materials. Since asphalt shingles and clay and concrete tiles are so prevalent in Florida, let's take a look at those choices and address this question: what's the lifespan of an asphalt shingle roof vs a tile roof?
We'll start off with that caveat, "it depends." Some materials are just more durable than others. Obviously one major factor in the lifespan of any building material is the conditions they have to endure. You might be thinking of hurricanes right away, but it's also the intense rays from the sun. Combine that with not-infrequent heavy rain and high winds and you have a challenging environment for any building material. And that's what we get here in beautiful Florida!
Another major factor in the lifespan of building materials is the quality of installation. A roof of any material is only as good as the quality of installation. Fortunately, you have a lot of control over this condition. Just work with contractors approved by the manufacturer of the roofing material you choose and you'll get a good result. Tap your network for referrals, too.
The Lifespan of Asphalt Shingles
Since more than 70% of the roofs in Florida use the common asphalt shingle, let's start here. Asphalt shingles are so popular for several reasons:
They're aesthetically pleasing and available in quite a few colors.
They're usually the most-affordable option.
Almost all contractors are skilled at their installation.
They're easy to install and go on quickly.
And they provide good durability and longevity under normal conditions.
The most popular asphalt shingles are called "architectural" shingles. They are made of 2-3 layers of fiberglass mat with asphalt as the waterproof element. The mats can be shaped in ways to mimic traditional materials like wood shakes and slate tiles. Right up close, you're not fooled, of course. But standing on your lawn and looking up at the roof, they look good! Ceramic granules coat the top surface and give them that "coarse sandpaper" texture. The granules can also reflect the sun's heat and provide what's called a "cool roof." A cool roof can lower your air conditioning usage by preventing heat from moving from the roof into the attic. In general, you can expect these shingles to last about 20 years, as long as the roof isn't damaged by our intense storms.
The cheapest asphalt shingles are called "3-tab" shingles and may be only one layer of fiberglass. Don't expect this type of shingle to last more than about 10 years in Florida. Also, they're not allowed by some HOAs.
Insider Tips
A helpful resource that's focused on asphalt roofing is the Asphalt Roofing Manufacturers Association. At their site you'll see a lengthy list of manufacturers. In this post we'll just mention two of the top brands, but that's not to imply that other brands are lower quality, just that we know these are excellent quality shingles.
It's important to remember that a manufacturer's warranty will give you a clue about their expectations for the durability of their product, but even a "lifetime" warranty has conditions. A roof shingle warranty, for example, will be prorated, meaning that replacement will cost you something based on the number of years the shingles have been on the roof. You pay for the use you got over the years, essentially.
GAF Asphalt Shingles
GAF has been in business since 1886 and is now the largest roofing manufacturer in North America. They offer a range of asphalt shingles and provide different levels of warranty coverage, which you can compare here. The longer-term warranties require "accessory products" and most require installation by a certified contractor. The most popular GAF shingles, the Timberline series, offer a lifetime warranty against manufacturing defects. In other words, the company knows how to make a high-quality product and they guarantee it.
"Lifetime" in this case, means as long as "you, the original owner, or the second owner if the warranty was properly transferred". So how long do these shingles last? GAF's architectural shingles should last from 20-25 years in Florida.
CertainTeed Asphalt Shingles
Another top manufacturer of a variety of building materials, CertainTeed makes another of the top choices in residential shingles, the Landmark Series. Like GAF's Timberline series, these are good-looking multi-layer shingles with a solid warranty. As such, you can expect around 20 years on your roof, and possibly a few more. Here's what they say about their warranty:
Lifetime, limited transferable warranty.
10-year SureStart™ warranty (100% replacement and labor costs due to manufacturing defects).
15-year StreakFighter® warranty against streaking and discoloration caused by airborne algae
15-year, 110 mph wind-resistance warranty.
Wind warranty upgrade is available for Landmark TL up to 130 mph. Specified CertainTeed starter and CertainTeed hip and ridge are required.
You might notice the "wind warranty upgrade" listed above. Like GAF, when you treat the roof as a system of specific products, you can expect a better roof and a longer-lasting roof. This upgrade is evidence that CertainTeed sees it that way.
Cost for An Asphalt Shingle Roof
For a quick estimate on the cost for your roof, here are a couple of resources:
What's the Cost To Replace My Asphalt-Shingle Roof?
Across the US, the average cost per square (100 square feet of surface area) is $340-360. The inexpensive three-tab shingles are going for around $260 per square. There's no substitute for a quote, though, which is accurate for your local market. Lifetime warranties and supply-chain snags, for example, might affect the cost substantially. You can talk to a pro contractor and get a quote that's accurate.
Clay Tile Roofing
When you want that classic "Old-World" look you see in Europe, Latin America, and China, you may be thinking of clay tiles. They're popular in much of Florida and do provide a "premium" look. It's more than aesthetics, though. Clay tiles are a durable and proven natural material and with proper installation can last 50 years. In some places they've lasted—with some skilled maintenance—for centuries. In Florida, they're a great choice and 50 years is a reasonable expectation. This manufacturer offers a 75-year warranty. Though they're proven and durable, clay tile are vulnerable to being walked on and to impacts from flying objects. They withstand wind and rain very well, making them ideal for Florida.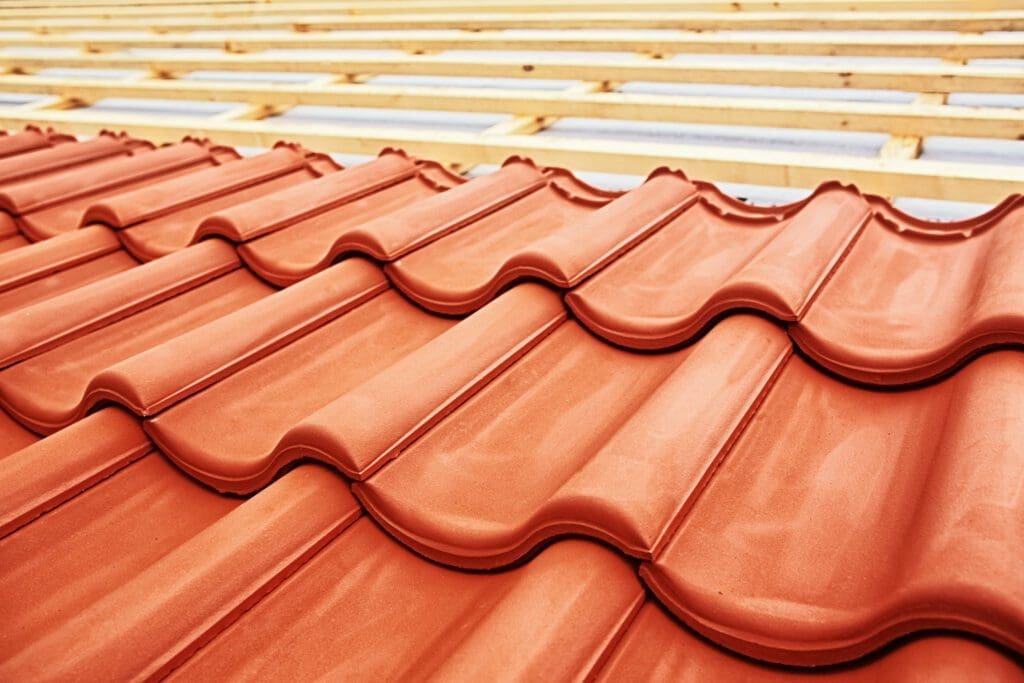 Another reason for their continued appeal is the variety of colors and forms that you can choose. Mediterranean-style and Latin-American homes usually use the classic terra cotta color, but many more are available. You can also choose from a few profiles, such as flat, fish scale, barrel, and S-shaped.
Cost for A Clay Tile Roof
Yes, it's an expensive roof, when you consider only the upfront cost. That range is about $1450-$2550 per square. But when you consider that you might need to put 2-3 asphalt shingle roofs on in 50 years, this option pencils out.
Here's a handy calculator to check out for clay tile and concrete tile roof costs.
Concrete Tile Roofing
For the look of clay tile with a lower cost, concrete tiles may be your choice. The material is basically the same as your concrete driveway: water, aggregate/sand, and Portland cement. You can choose from several profiles and colors to get the look you want, and you'll get excellent durability and aesthetics. Concrete tile manufacturers often provide a 50-year warranty, so that's a lifetime roof for many of us. Eagle Roofing is a top US manufacturer of concrete tiles, with plenty of photos for you to evaluate.
Cost for A Concrete Tile Roof
Compared to a clay tile roof, a concrete tile roof will come in about 20-30% less. That's around $1200-2000 per square, installed. Here's the cost calculator.
How Can We Help?
If you'd like to talk about replacing your roof, give us a call at 813-373-9088. Our team has more than 40 years of experience in roofing. You can also use this form to ask about any type of roofing material and we will contact you.