For several decades, asphalt shingles have dominated the residential roofing industry. Other types of roofing have also maintained their share of the market, such as clay tile, concrete tile, and metal roofing. With about 70% market share, asphalt shingles are the big dog, but they're not the "best" option. Why not? Because they don't last as long as other options and they're not recycled, for the most part. Will that continue? Let's take a look at the future of roofing materials and consider what seems likely.
Expanding the Use of Established Roofing Materials
You can think of the future of roofing materials in a couple of different ways. I like to consider that the market for well-established and highly durable materials like tile and metal roofing could expand massively. If that happened, you'd see several benefits, including much greater sustainability.
These materials last much longer than asphalt shingles. They don't need to be replaced every 20 years or so as asphalt shingles do. In fact, all these materials—clay tile, concrete tile, and metal roofing—can last more than 50 years. That alone could keep a huge amount of shingle waste out of the landfills.
Each of these materials is an upgrade in regard to durability and longevity over asphalt shingles. Here are the pros and cons:
Concrete tiles: Concrete tiles offer most of the advantages of traditional, "old world" clay tiles, but cost substantially less. Clay tiles cost 20–50% more, in fact, but you need to get some quotes in your area. You might find that contractors in your area don't do concrete tiles, or think they're the best thing ever and are pricing aggressively. Here's a handy site to check out. They look good and offer a traditional appearance that works with a variety of home styles. They are heavier than asphalt shingles, though, so your contractor may need to upgrade your roof framing to handle the extra weight.
Clay tiles: Clay tiles are one of the oldest materials still in widespread use. They have proven their durability over many centuries. While heavy, contractors can reinforce your home to use clay tiles. You'll find a few different profiles for the tiles, so you can choose the appearance you prefer. Clay tiles offer a classic appearance and excellent performance over many decades. One drawback is that they can break from impact, requiring repair, but not replacement of the entire roof. It's completely acceptable to replace a few tiles as necessary, though the new tiles may not match exactly at first. The older tiles will have some patina from weathering, which the newer tiles will gain over time. It's all part of the process.
Metal roofing
Steel roofing: Steel is an incredibly versatile material that's available in many formats. With exposed screws, or the "screw down" format, it's pretty cheap. As standing seam panels, you don't see the fasteners. It's more expensive and more durable. Manufacturers can form steel into stamped sheets that look like old-world tiles, with the advantage of fast installation and lower cost. With the added benefit of the tile pattern hiding hail dents and other wear and tear.
Aluminum and Galvalume: These two are lesser-known metal-roofing choices, but they're solid, will last 25+ years in a coastal environment, and like the other metal-roof options, are recyclable at the end of their useful lifespan. Aluminum doesn't rust like steel does, making it a popular choice along the coast. Galvalume is a steel panel with both an aluminum and a zinc coating for extra rust resistance. This product has been around for about 50 years and it's proven.
Zinc and copper: These two are the upscale, long-lasting metal roofing choices for high-budget homes, churches, universities, corporate structures, and the like. Both develop a self-healing patina over the decades, and they've both been used for centuries. They're beautiful and sustainable, if expensive. But when you consider installing a roof that lasts for 100 years, that actually seems like the most economical choice.
Newer Types Of Roofing: the Future of Roofing Materials
The future of roofing materials will definitely include these new types of roofing that are available now, but are not yet used that much. Plastic shingles and solar shingles are both great ideas, but do they perform? Let's take a look.
Plastic Shingles: One company, Brava, makes plastic tiles/shingles made to mimic cedar shakes, slate tiles, and clay tiles. The company says they're made from recycled plastic, so that's a great use of an unlimited material that is now a waste product. They also claim that their plastic tiles/shingles are more durable than the actual products. They are completely recyclable at the end of their lifespan. Both slate tiles and clay tiles are vulnerable in cold climates, so if plastic tiles are more robust in those climates, that could open up huge markets.
Compared to slate and tile, their plastic product is bound to be lighter. That makes it much easier to transition from asphalt shingles to plastic. They also offer a 50-year transferable warranty, a Class A fire rating, and the company claims the product is both maintenance free and mold free.
As for solar shingles, you may have heard of this product from Tesla. Their product is quite interesting, with 72-watt solar tiles and steel roofing tiles combining to create a complete roof system. The Tesla solar roof can also combine with the other Tesla products like the Powerwall for energy storage.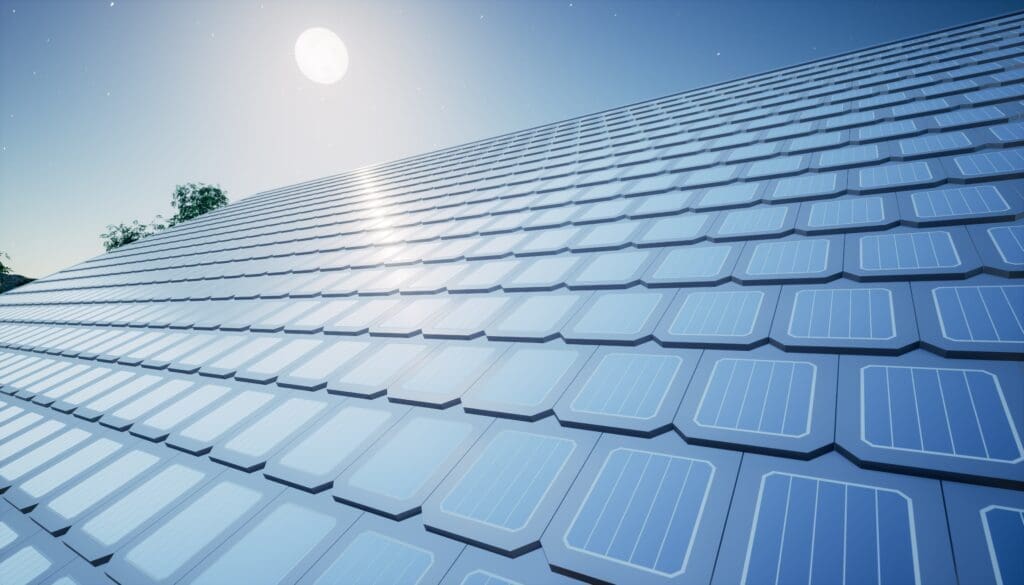 Roofing giant GAF also makes a solar shingle, which your roofer installs along with a complementary GAF shingle. That's their popular Timberline series. This is an attractive option as you get the benefits of solar power and a new roof in one package, with one installation. You don't have your roofing company and your solar company. You just have one company for both installations, and one company with the warranty for both. That's pretty darn attractive.
We're Here When You Need Us
No one knows completely the future of roofing materials, but these are good ideas. And an entire roof of solar shingles should be the norm in 10 years. But overall, predictionizing is a tricky business, especially about the future. But we're here to help with most types of roofs, so no matter what type of roof you have, we can help you through the process. Our team has more than 40 years of experience in roofing. Give us a call at 813-373-9088, or use this form and request more information and we will contact you.