Your home is both a place to live and raise your family, as well as a substantial investment. As such it makes sense to keep it in good repair. You can also consider some upgrades here and there, especially if you plan to stay there for awhile. The roof is definitely a place where it makes sense to consider upgraded materials that can last much longer than the typical asphalt shingles. Let's look at those options and find out how much does a new roof cost in Florida?
The Basics of A Roofing Estimate
Your contractor will give you an estimate for your roof that's priced by the "square," which is 100 square feet. So if your house is 2000 square feet, which is a bit above average for Florida homes, and has a typical 4/12 pitch roof, your home will require about 20 "square" of shingles and materials. To avoid coming up short of materials, your contractor will order slightly more shingles. That could total 21 square for a typical low-slope roof. If your roof has more of a pitch, say 6/12 or higher, you'll need more shingles and it will cost more. Now let's look at the types of roofing materials.
Asphalt Shingle Roofing
Asphalt shingles have become the mainstay of roofing materials in the U.S. because they offer a host of benefits. They're affordable, easy to work with, readily available, and give you many appearance options. In Florida, good-quality asphalt shingles from the top brands, like GAF and CertainTeed will cost you about $320–$340 per square, installed. That price includes the shingles and the basic accessories, but not any repairs to roof decking, or new flashing, and so on. Your roofer will advise you of those costs when it's apparent that they're necessary.
This type of shingle is called "architectural" shingles as they offer the look of slate tiles or wood shingles thanks to layers of the fiberglass material they're made from. You can expect top-brand architectural shingles to last 20-25 years in Florida, and learn more here.
Clay Tile Roofing
You may be considering clay tiles as your next roofing option, and that is a solid choice. Clay tiles have proven their durability all over the world for thousands of years. They're available in many different earth-tone colors and in a few different shapes, or profiles. Some are flat, with a straight bottom edge. Others will have a curved bottom edge, and others will be shaped with a pointed bottom edge. Still others have more of a "barrel" or half-barrel shape and are made to fit together side to side and top to bottom.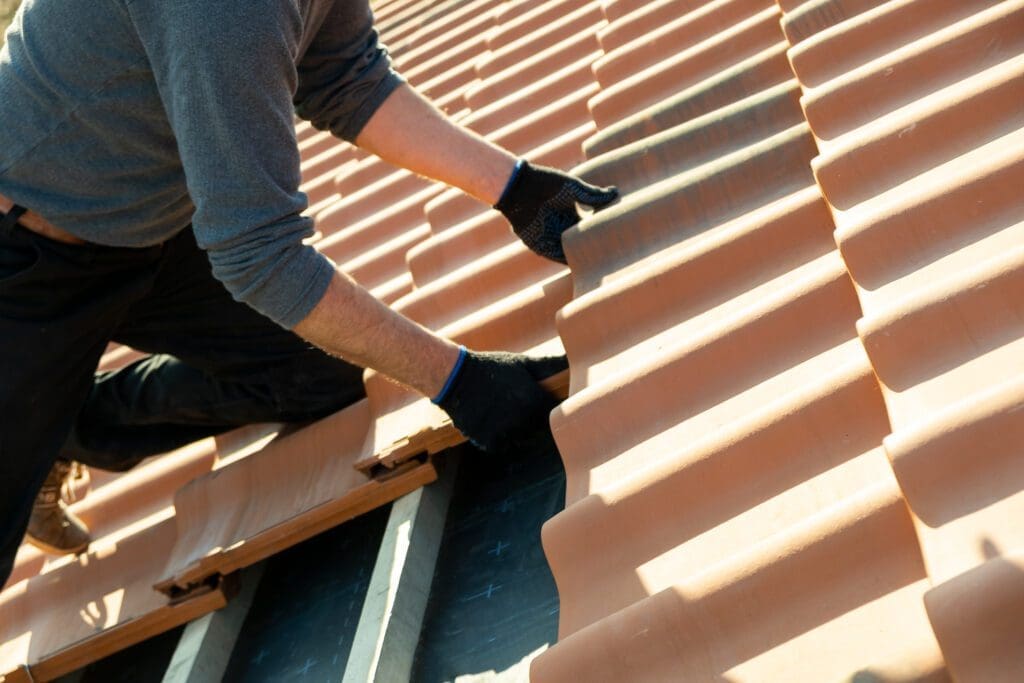 Clay tiles are heavier than most asphalt shingles, so upgrading from shingles might require your contractor to brace your home's roof framing. It's impossible to estimate that cost without looking at your home thoroughly. But the tiles will cost from $1400 per square. As for their lifespan, they don't wear out in 25 years like asphalt shingles. Absent storm damage, you should see 50-plus years from your clay-tile roof.
Concrete Tile Roofing
Concrete tiles mimic clay tiles at a lower cost. Some clay tiles offer the texture and color of wooden shakes or slate tiles. They are heavier than clay but cost less, starting around $950 per square. Concrete absorbs more water than clay and will probably not prove to be as durable, so this type of roof is probably going to be closer to a 40-year roof, but that's still a great value.
Steel Roofing
Steel roofing can be a bit of a chameleon. It's likely that you've seen steel roofing but haven't know that it's steel. In fact, steel can be made in sheets with raised ribs, and with standing seams. Those types are common and the form is shared with aluminum, Galvalume, copper, and zinc. You can also get a steel roof in sheets that are stamped to look like tiles.
Steel comes in sheets with multiple ribbed profiles that add strength to the panel. They can be screwed down from the top, called a screw-down roof. Some people think this looks industrial or agricultural, but others like it. It's economical, costing just $550 per square. Moving up, a standing seam steel roof uses hidden fasteners attached to the roof decking, giving your new roof a clean and seamless appearance. It takes a lot more time and skill, and will cost from $1000 per square.
Steel that's stamped into the appearance of clay tiles, slate tiles, or wooden shakes for about $750 per square. It's much lighter than either clay or concrete tiles, and performs better than wooden shakes.
Aluminum Roofing
Like steel, aluminum can be formed into sheets and makes a long-lasting roof. It really shines in coastal areas, as it will never rust. You can get a screw-down aluminum roof starting at around $750 per square, but standing-seam aluminum will last longer—more than 30 years—and will cost around $1200 per square. Aluminum's main drawbacks are that it expands and contracts much more than steel, so it has to be fastened expertly. It's also not nearly as strong as steel, but it's strong enough. And since it will never rust, it works well for a roof.
Galvalume
Galvalume is a hybrid of sorts, and it's been proven for about 50 years, so you know you can depend on it. Costing about $550 per square, Galvalume gives you the strength of steel sheets with an aluminum and zinc coating that should give you a 25-plus-year roof, even in a tough coastal environment. A Kynar finish adds even more protection, as well as many different colors, and looks exactly like a standard painted steel finish.
Copper Roofing
Copper is a traditional material that's been used for centuries. It's tried and true, and expensive, which is why you see it mostly on institutional buildings like universities, government buildings, and churches. That said, it can last for more than 100 years, so it may be money well spent. For $1200 per square and up, you do get a lifetime roof that makes a bold and beautiful statement.
Zinc Roofing
Like copper, zinc is a traditional materials that develops a self-healing patina over time. And like copper, a zinc roof can last more than 100 years. Zinc is definitely a more subtle look than flashy copper, so if you're looking to upgrade to your last roof, zinc may be just what you're looking for. It's more of a dark gray that some folks say looks like nothing and other folks say looks just right.
Other Factors for Your New Roof Cost In Florida
While tearing off your existing shingles is not always required, it's always the best option. In fact, you may not get the full, or any, manufacturer's warranty from your new roof if you don't start with a clean roof deck. So let's look at some basic costs.
Tearing off one layer of asphalt shingles will be around $60 per square, while tearing off two layers will be closer to $80 per square. So if your home is 20 square, one layer tear off is $1200.
When you pay for tear off, your crew can see and repair any leaks, rot, and so on. Your roof also doesn't have to endure additional loading from another layer of roofing, which would happen if you skipped tear off. All these factors affect your new roof cost in Florida, so it's best to consider them together.
We're Here When You Need Us
If you'd like to talk about replacing your roof with any of these types of materials, give us a call at 813-373-9088. Our team has more than 40 years of experience in roofing. You can also use this form and ask us, "How much does a new roof cost in Florida?" and we will contact you.
CLICK HERE FOR AN INSTANT ONLINE QUOTE IN 60 SECONDS
clear