Putting a new roof on your home is no small affair. You have myriad factors to consider, such as the type of roof, how you'll pay for it, and if you be be living at home during the project. You'll may also need to work with your insurance company, and there's that small detail of choosing a roofing contractor and getting estimates. If you've never asked for bids for home-improvement work before, you probably have some questions about the process. A frequent question is, "How many estimates should I get for a new roof?"
We can help you get comfortable with the process so you can move ahead and get the work done.
Where to Start With Getting Estimates
First off, you'll need to get in touch with some roofers. How will you do that? We would advise you to be selective! Some things you can think about include:
Word of mouth recommendations: Do you know any roofers personally or peripherally? Have your friends or neighbors had their roofs done relatively recently, in the last year or two? There's no substitute for a good recommendation. Ideally, you want to narrow your list of roofing contractors so that only the best companies are giving you estimates. You'll then have a better chance of comparing apples to apples, so to speak.
Online reviews: If you don't have any recommendations to rely on, then your best bet is to use the internet. Do a web search and you'll get results that bring up roofing companies and their ratings by customers, from one to five stars. Check the prominent sites like Angi, Google, Facebook, and Yelp and you'll see reviews. You can cross reference between those sites and see what stands out. I like to see at least four stars and no serious complaints.
Website quality: This is basic marketing these days. Have these companies invested in this company asset, or is it static and out of date? Do they tell you who owns and runs the business?
How long has the company been in business: In Florida, the state requires roofers to have industry experience before they can open a roofing company. You have every right to inquire about the business' history, as well as see their official documents.
Better Business Bureau affiliation: Yes, this still exists and reputable businesses value maintaining it. If you don't see it on the company's website, just ask.
Product manufacturer's certification: This one is less cut and dried, but top roofing companies do make the effort. And this does take effort and commitment. GAF says only 2% of roofers earn their Master Elite certification.
So when you have a solid list of contractors, you can start pulling in the estimates with some confidence.
So How Many Estimates Should I Get?
You should get as many as you need to make a good decision that you feel comfortable with, but three to five should be manageable. Remember, you're evaluating the roofing contractor just as much as the estimate. You've already done the search to find contractors, now it's their time to impress you. Check out things like:
How does the contractor communicate with you? Is he or she timely, or always late?
Does he or she keep his truck/vehicle looking sharp? Or at least acceptable? Work vehicles get beat up day to day, so please don't be too harsh. But a generally "sloppy" feel may carry over into other areas of the business. I think most of us are looking for a contractor who runs a tight ship.
Have you seen testimonials from satisfied customers? That's usually a prominent item on the website, as they're so valuable for any business, roofing contractors included.
Do you get return phone calls, or do you have to keep calling back?
If you're considering changing from your current roofing material, such as going from asphalt shingles to a metal roof, for example, you might want to get and estimate for each of those from each contractor. A metal roof can be two-three times the cost of a shingle roof, and while it's usually worth, that's a lot to consider.
What's In the Estimate?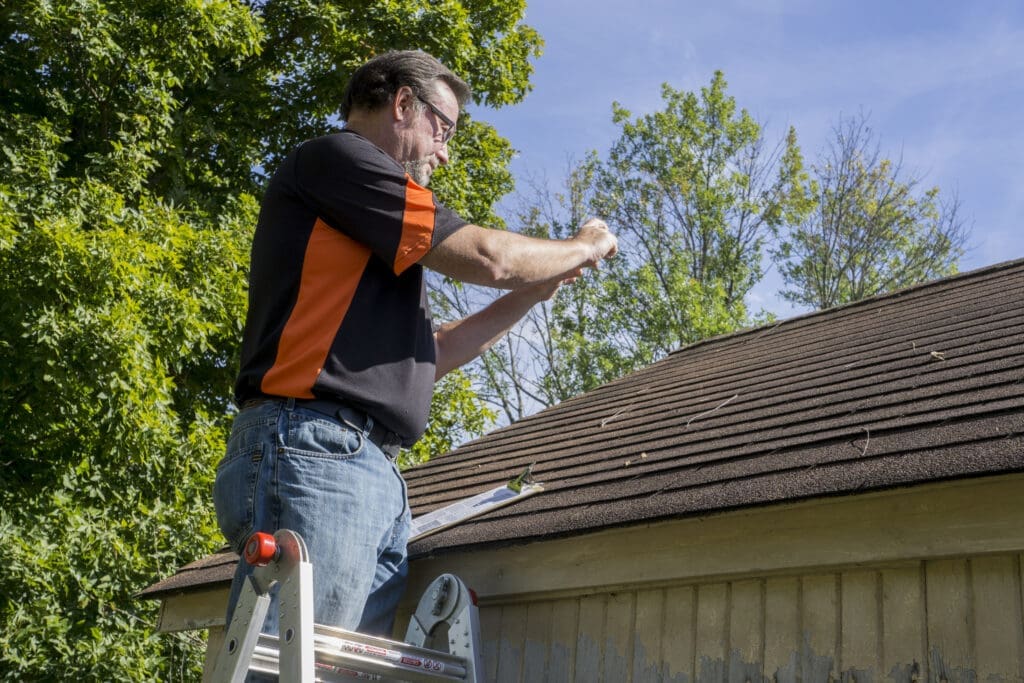 That can vary somewhat based on the material, but the point is that all of the estimates contain nearly all the same elements. You're free to add anything as you see fit, but here are the basics:
The exact materials to be used for the main components; here we're talking about the underlayment and the shingles, or the tiles, or the metal, or the membrane.
Vent boots.
Roof flashing.
Repair items, such as how they'll handle replacing roof decking.
What is the installation method?
How much does tear off cost?
What will the crew protect with boards and tarps?
What are the dump fees and how long will the dumpster be on your property?
What is the roof warranty?
How long is the estimate valid?
What is the approximate starting date for the project and how long will it take?
There you have it. With that information, you can compare your estimates and your impressions of the contractors. Take your time and be thorough, but keep it moving, too. It's possible that you could "miss your window" if you dally.
Price Is Not the Only Factor
If you've made it this far, you probably understand that getting a first-rate roof is not just about price. It's about doing great work and maintaining a reputation as one of the best companies. Dedication to honesty and high-quality work are the main drivers. But you might still have questions about any number of things. Do you want the same type of roof that you have now? Do you even need a new roof yet? What about insurance questions? Whenever you're ready, give us a call at 813-373-9088. Our team has more than 40 years of experience in roofing. You can also use this form and let us know your questions. We will get in touch with you!