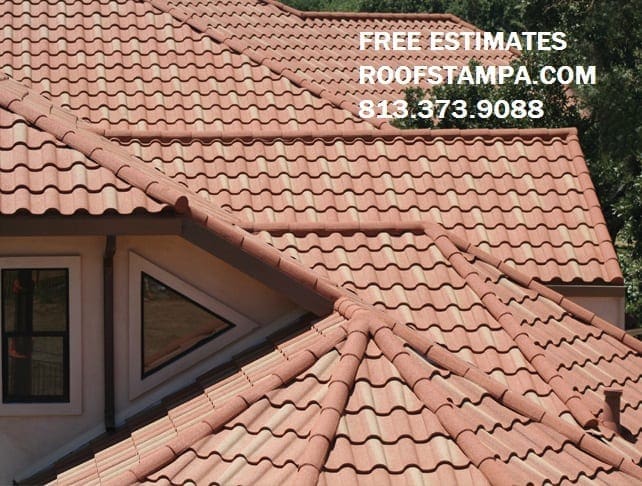 From Tampa to Miami and all along the Florida coastline you may notice that tile roofs are extremely popular in the state of Florida. Your initial thoughts may be that tile roofs are expensive and unaffordable for the average homeowner. In many cases this is true; however, there are many benefits to tile roofs with one of them being the fact that they have the lowest life-cycle cost compared to other roofing systems. So what are the features & benefits of a tile roof?
Design
Concrete & clay tiles come in a wide variety of shades, colors, or even multi-colors allowing homeowner ease in finding a tile roof that will coordinate well with the exterior of their home. Tile roofs can also easily match any architectural design as they are made to emulate other roofing materials such as traditional barrel styles, wood, or slate, for example. Modern roofing tiles have been designed to provide natural water shedding and ventilation features allowing them to perform better than asphalt shingle roofs in both hot and cold climates.  It has also been proven that tile roofs greatly increase the value of the home as they are more aesthetically appealing to most home buyers.
Durability
Tile roofs have much longer lifespans than other types of roofing systems generally lasting 50 -100 years. As a matter of fact there are many tile roofs still functioning today that are centuries old. Due to their long lifespans and reduced required maintenance, tile roofs actually have the lowest overall life cycle cost as other roofing systems have fairly short lifespans and will need to be replace multiple times during the homeowners life. Tile roofs also require much less repair work throughout their life as they are highly wind resistant, fire resistant, and hail resistant. For this reason tile roofs are very popular in the Tampa Bay area where we experience tropical storms, hurricanes,and regular thunderstorms which can sometimes produce winds up to 150 mph.
Energy & Environmentally Friendly
Based on the life of their materials and the required maintenance, tile roofs have the lowest life cycle cost fulfilling the LEED & Energy Star requirements. The materials used for tile roofs are environmentally friendly as they do not deplete natural resources, are preservative free, easily recyclable, and the long life span reduces the need for reroofing which fills landfills and dumps. Studies have shown that tile roofs cut the transfer of heat up to 70% compared to asphalt shingle roofs lowering the cost of utilities.
Installation
Installation of tile roofs is fairly easy compared to other roofing systems allowing tile roof installation, materials, and repairs to be cheaper in the long run. Since roofing tiles are installed individually, repairs are fairly easy to perform.
FREE ESTIMATES for TILE ROOF in TAMPA BAY
If you would like a FREE ESTIMATE on a tile roof in the Tampa Bay area please call 813-373-9088 or fill out our FREE ESTIMATE form on our website and someone will reach out to you within 24 hours.
Our company offers residential roofing and commercial roofing for all areas of Tampa including St. Petersburg, Clearwater, Brandon, Largo, Apollo Beach, Riverview, Ruskin, Sun City Center, Oldsmar, Town n' Country, South Tampa, North Tampa, Temple Terrace, New Port Richey, Hudson, Bradenton, Sarasota, Lakeland, Plant City, Land o Lakes, Brooksville, Dade City and all other surrounding areas in Hillsborough County, Pinellas County, Pasco County, Manatee County, Polk County and Sarasota County.