Shingle roofs, typically installed using asphalt shingles, are the most common type of roof installed on homes in the Tampa Bay Florida Area. Asphalt shingle roofs are so popular due to being relatively inexpensive, widely available, easy to install, and having a lifespan that is competitive with other more expensive types of roofing systems. Many different types of shingle roofs and colors are available in the Tampa area from many different shingle roof material manufactures including Owen Corning, GAF, & CertainTeed.
Types of Shingles
The three main types of shingles are traditional 3-tab shingles, architectural dimensional shingles, and Specialty Designer Shingles.
3 Tab Shingles – Three tab shingles are the most economical type of shingles available on the market. Three tab shingles are a single layer shingle made up of three even width tabs. Three tab shingles are less expensive than other types of shingles because they are lighter and easier to produce. In Tampa the typical lifespan of a 3-tab shingle roof is 15 years. In fact, insurance companies will require homeowners to replace a 3-tab shingle roof that is older than 15 years before renewing their policy. For a list of colors available in the Tampa area please visit the manufactures website.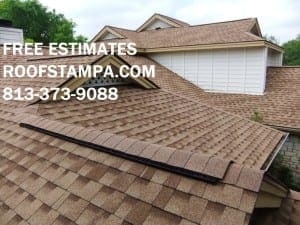 Dimensional Shingles – Dimensional shingles, aka architectural shingles, are made up of 2 layers of different sized tabs. This is what gives them the dimensional look that their name is derived from. Dimensional shingle roofs are more expensive than three-tab roofs but are quickly rising to the top as the most popular type of shingle as their benefits are worth the increased cost.  Since dimensional singles are heavier and made up of more material they are more durable and therefore have a longer life-span, typically around 25 years. Dimensional shingles also have much more curb appeal with their dimensional look and because they hide age and imperfection much better than three tab shingles. For a list of colors available in the Tampa area please visit the manufactures website.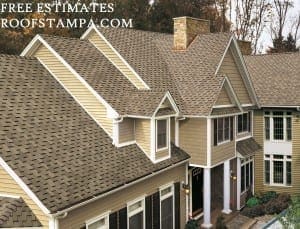 Specialty Designer Shingles –Specialty Designer shingles come in many different variations and colors from many different shingle manufactures. Designer shingles are more expensive than three-tab shingles and dimensional shingles however they also add to the curb appeal often realistically replicating the slate or wood shake look for a cheaper price than the real thing. For a list of designer shingles available in the Tampa area please visit the manufactures website.
Life & Durability
Asphalt shingle manufactures generally offer 15 – 30 year warranties. Why such a wide span of years? This is because the climate, weather, and other environmental factors vary greatly in different parts of the country. For example, here in Tampa Florida a shingle roof has a shorter lifespan due to intense heat, regular storms with heavy winds, and hurricanes. Intense heat can reduce the life of a shingle roof compared to shingle roofs installed in cooler parts of the country. Drastic changes in temperatures from cool nights to extremely hot days can decrease the life of a shingle roof, for example. Areas where the weather is extremely cold can also cause problems for shingle roofs as ice and snow build up agitating the shingles causing cracks and fissures.
Another factor that can affect the lifespan of a shingle roof is the roof pitch. High pitched roofs allow water to run off much faster not allowing the water to build up and cause damage. This is why asphalt shingles are not recommended for very low-sloped roofs which are more vulnerable to high winds & water build up. Certain homes are in damp areas that encourage algae build up. For example, water buildup and algae/mildew growth are more frequent on roofs that are cover by trees. This is because the water is not quickly evaporated as the trees are blocking the sun. The roof is also usually covered by debris allowing water and algae to collect and build much easier.  For those homeowners they may want to consider algae resistant shingles.
Cost of a Shingle Roof
The cost to install a shingle roof varies greatly depending on the types of materials used, the age and damage to the previous roof,  the pitch of the roof, the architectural construction of the roof, among other factors. Generally the cheapest shingle roof in Tampa Florida is going to cost about $215 per square. Better quality roofing underlayment and shingles can increase the cost per square greatly. For example, a three tab shingle roof with 15 year felt paper underlayment is going to be much cheaper than a dimensional shingle roof with peel and stick underlayment.  The cost to install a shingle roof will also increase with higher pitched roofs that have many cuts such as valleys, hips, ridges, dormers, vents, a/c units, solar panels, and other obstacles that may make the roof more difficult to install.